Skip to Content
San Jose HVAC Service & Repair: 24 Hour Emergency Service Available
Exceptional Service Is Our Promise
Providing Quality Service Since 1953
Atlas Heating & Air Conditioning dates back to the infancy of the Silicon Valley. The Atlas name found its hub in San Jose during the 1950's, later merging with Trillo Heating and Air Conditioning in the 1990's, working together to provide modern solutions to best serve their customers' needs. Continuing a long tradition of excellent service and quality workmanship, Atlas Trillo Heating & Air Conditioning is dedicated to providing its customers with the highest quality heating and air conditioning equipment. Matched with Atlas Trillo's industry expertise, you can be confident knowing you are getting the very best in energy efficient, environmentally safe equipment and services for your home or office.
Are you searching for reliable heating and air conditioning service in or near San Jose? At Atlas Trillo Heating & Air Conditioning, we are a fully licensed company, specializing in various HVAC services for any home or business! When you have an emergency situation or just need routine maintenance, talk to us right away.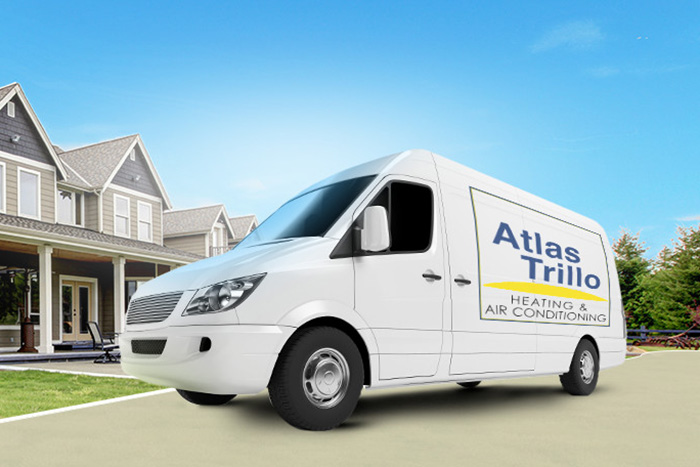 Our HVAC Services
Whether your current air conditioning system is in need of replacement, your furnace is looking like it may need repairs, or you just want to test your home's air quality, we can help! Our San Jose HVAC services are comprehensive and reliable, no matter what the issue. We service all makes and models, no matter how old or new and no matter how simple or complicated. All employees undergo background checks and drug screens.
Atlas Trillo
Address
2305 Paragon Dr
San Jose, CA 95131
Phone
(408) 286-8931
Hours of Operation
Monday: 8:00 AM – 5:00 PM
Tuesday: 8:00 AM – 5:00 PM
Wednesday: 8:00 AM – 5:00 PM
Thursday: 8:00 AM – 5:00 PM
Friday: 8:00 AM – 5:00 PM
24 Hour Service Available
2305 Paragon Dr, San Jose, CA 95131